Tan Accelerating Trio - Peptide Sun Tanning Spray
Regular price

$164.85 AUD

Regular price

$194.85 AUD

Sale price

$164.85 AUD
For this Tan Accelerating Trio, we are tripling your tanning potential with three 160ml Melanoboost Peptide Sun Tanning Sprays.

For added value, we have thrown in three FREE 20ml Travel Buddy oils valued at $30 for an extra boost on the go!
Bundle Contains:
3 x Melanoboost Peptide Sun Tanning Spray 160ml
3 x FREE Melanoboost Peptide Sun Tanning Oil Travel Buddies 20ml
Powered by peptides, Melanoboost Peptide Tanning Spray is the superior indoor outdoor tan accelerator you've been looking for to boost your tanning potential.
Free from chemical propellants, Melanoboost Peptide Sun Tanning Spray allows quick and effortless application over the whole body in seconds. Transparent and ultra-light, the fine mist spray absorbs instantly and  dries immediately to provide deep and lasting hydration, yet leaves a dry weightless skin finish that is completely undetectable! 
Boosted by peptides to optimise tanning with limited sun exposure, this refreshing spray is also enriched with marine extracts to help ward off free radicals that disrupt melanin production and cause skin tone to become uneven. Other beneficial ingredients help reduce hyper pigmentation and improve skin texture, whilst cooling Aloe Vera soothes and conditions the skin.
How To Use

Shake Melanoboost Peptide Sun Tanning Spray before use. Spray approx. 15cm away from the skin, do not spray into eyes or on irritated skin.

BEFORE: Use Melanoboost Peptide Sun Tanning Spray over 1-5 consecutive days prior to UV exposure to boost melanin production and prepare your skin for tanning.

DURING: Use Melanoboost Peptide Sun Tanning Spray during short bursts of UV exposure to accelerate tanning with minimal UV exposure.

*Melanoboost encourages users to take a balanced approach to UV exposure to maximise benefit and minimise risk. Regular short bursts of sun exposure should be sufficient to tan effectively using Melanoboost.

Melanoboost Peptide Sun Tanning Spray does not contain sunscreen, so don't forget your usual sun protection. TIP: Apply Melanoboost first, let it absorb, then apply sunscreen. Re-apply both again after swimming.

AFTER: Enriched with Aloe Vera and Marine Extracts, Melanoboost Peptide Sun Tanning Spray helps to soothe and protect skin post sun exposure, providing hours of hydration to quench any after-sun tightness and prevent peeling, contributing to a longer lasting tan.

Melanoboost Peptide Sun Tanning Spray will continue to assist melanin production each time you apply it, so with continued daily use combined with regular incidental UV exposure, you can potentially keep a level of tan all year round.
FEATURES + BENEFITS

Melanoboost Peptide Complex: Formulated exclusively for Melanoboost, our Complex is a unique combination of functional peptide actives with Octapeptide-5 at the core; Designed to induce melanogenesis without UV exposure to strengthen the skin's natural photoprotection and its ability to tan with minimal UV exposure. Further powering the performance of Melanoboost Peptide Complex is another intelligent biomimetic peptide Bronzyl, which offers excellent support to the tanning process when combined with Octapeptide-5.

Marine Extracts: Orabanch Repum Extract, Porhoryidium cruenthem extract and Porphyrara umbilicus extract are all Ocean Algae included in this formulation that collectively offer a powerhouse of benefits including:

Water binding - Full of natural minerals and vitamins, Marine algae nourishes dehydrated skin, leaving it moisturised, plumper, and more youthful-looking.

Anti-Aging - Ocean algae works to visibly reduce fine lines and other signs of aging by fighting inflammation and hindering free radicals that disrupt our melanin production and cause our skin tone to become uneven.

Anti-Inflammatory - Ocean algae contains B-complex vitamins, calcium, iodine, iron, magnesium, potassium, sodium, sulphur, and silicon to help reduce harmful inflammation in the skin.

Skin Strengthening - Marine algae helps to strengthen the elastin tissues in our skin, which helps it to appear firm, youthful and smooth.
Soothing - Ocean algae helps to soothe itchiness and stinging associated with dryness, acne prone skin, or eczema.

Boosting the skin's metabolism - As rich sources of vital substances including, minerals, vitamins, trace elements, amino acids, antioxidants and iodine, ocean alga are known to support your skin's metabolism which degenerates as we mature.
Ingredients

Melanoboost Peptide Sun Tanning Spray:
Water, Glycerin, Alcohol Denatured, Aloe Barbadensis Leaf Juice, Octapeptide-5, Sodium PCA, Sea Water, Orobanche Rapum Extract, Spirulina Maxima Extract, Porphyridium Cruentum Extract, Porphyra Umbilicalis Extract, Propanediol, Fragrance, Polysorbate-20, Phenoxyethanol, Caprylyl Glycol, Citric Acid, Potassium Hydroxide.

Melanoboost Peptide Sun Tanning Oil:
Isopropyl Palmitate, Polysorbate 85, Vitis Vinifera Seed Oil, C12-15 Alkyl Benzoate, Prunus armeniaca Kernel Oil, Fragrance, Octapeptide-5, Dihydroxy Methylchromonyl Palmitate, Tocopheryl Acetate, Phenoxyethanol, Caprylyl Glycol, Terminalia Ferdinandiana Seed Oil, Plukenetia Volubilis Seed Oil, Hippophae Rhamnoides Seed Oil, Mauritia Flexuosa Fruit Oil.
SHIPPING

Fast tracked shipping.

Australia:

All orders are shipped using postal carrier Australia Post.

Please allow approximately 2-5 business days to receive your order once it has been dispatched from our Melbourne warehouse. Orders placed before 1pm Mon-Fri will be sent the same day. If you chose our express shipping option, your order will take approximately 1-3 business days to arrive.

International:

US 5 -7 Business days.

UK + Europe 5 - 12 business days.

Rest of the World: 8 - 14 business days

All orders are shipped from Melbourne, Australia.

Please visit our FAQ Shipping page for further information.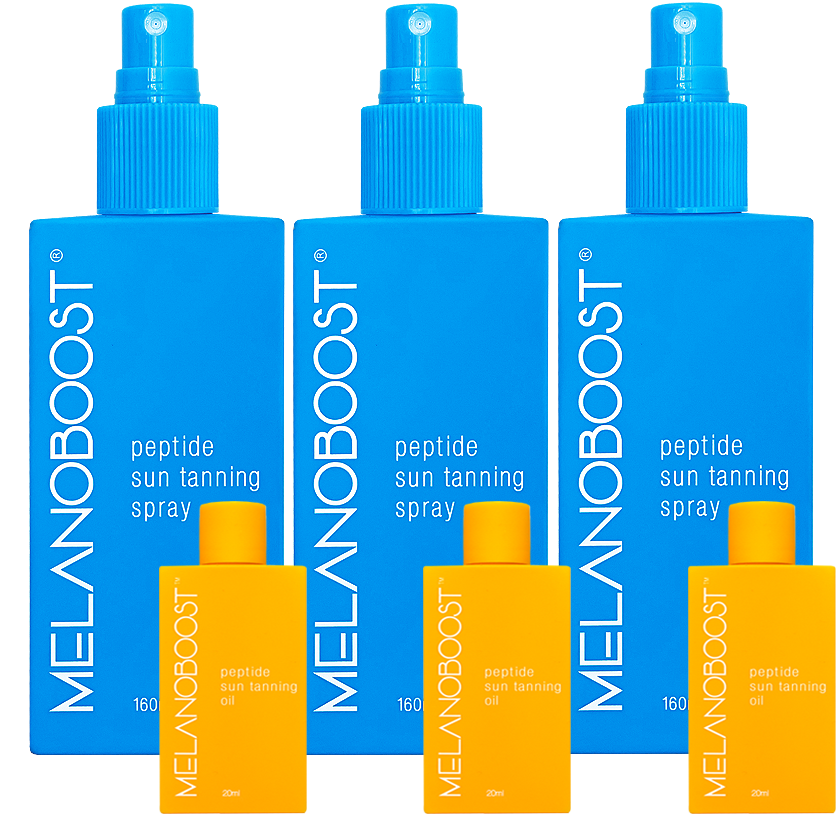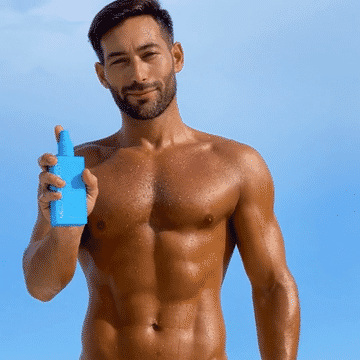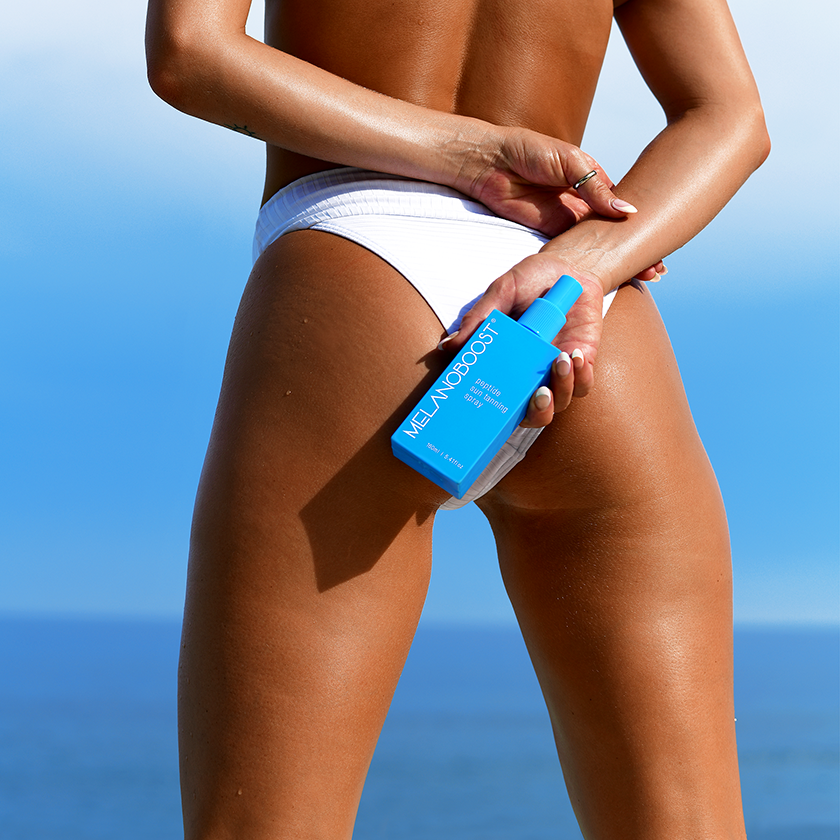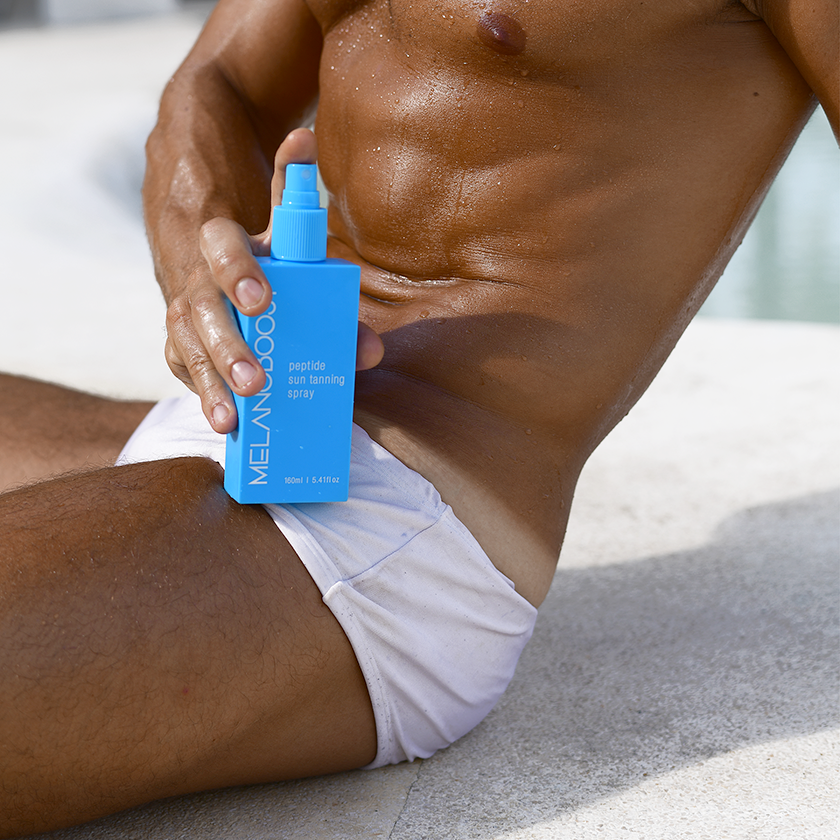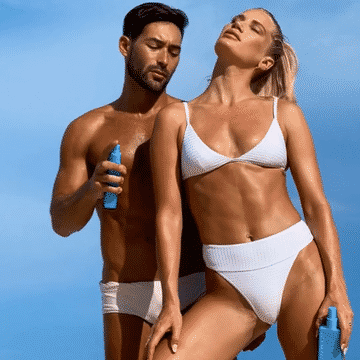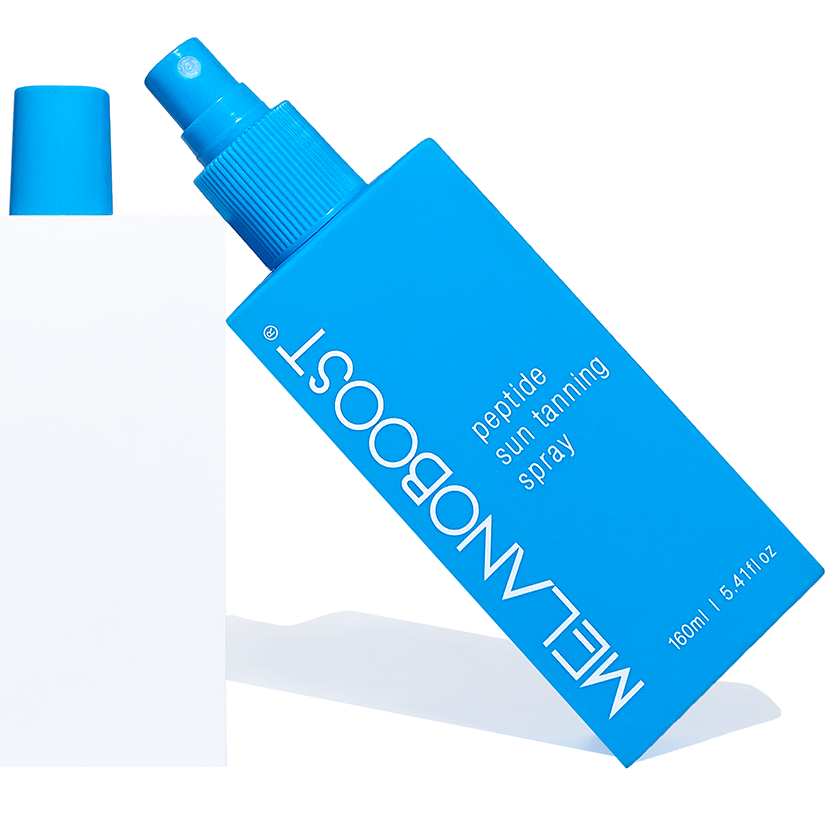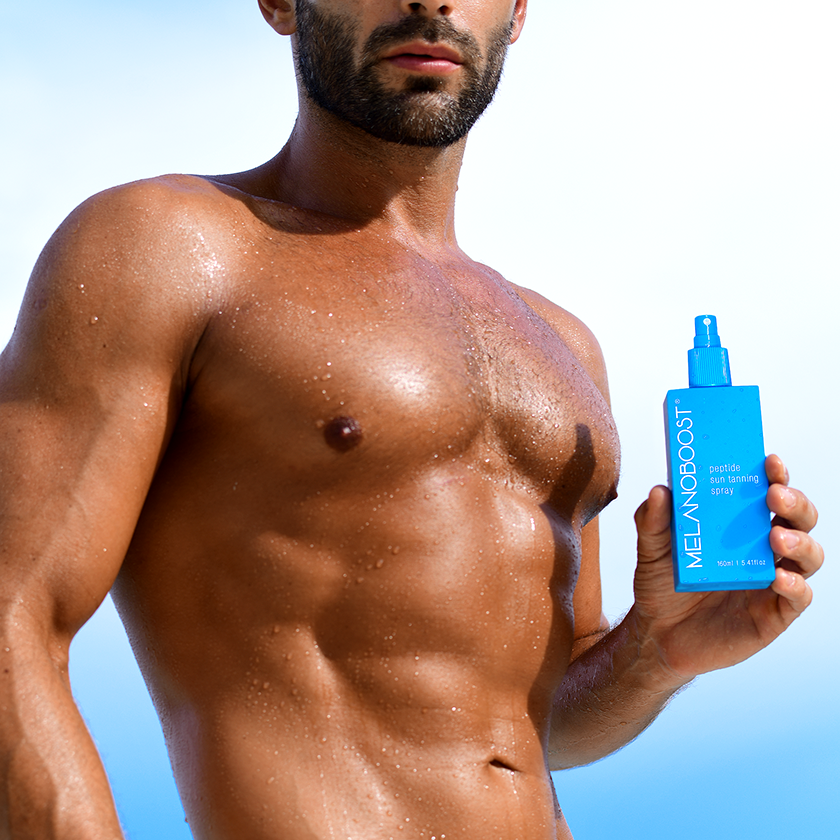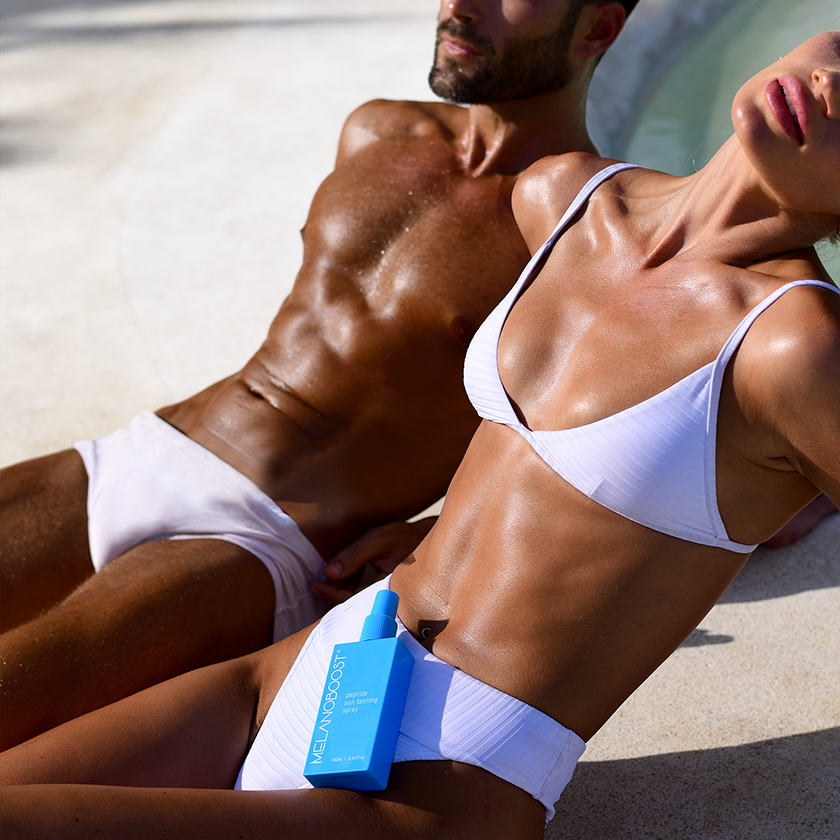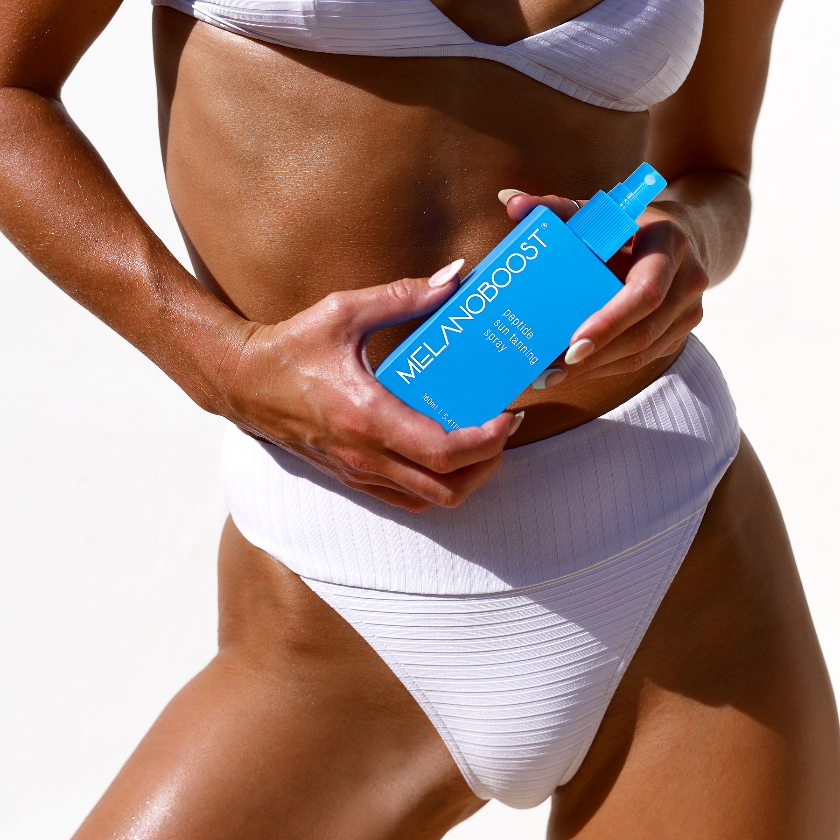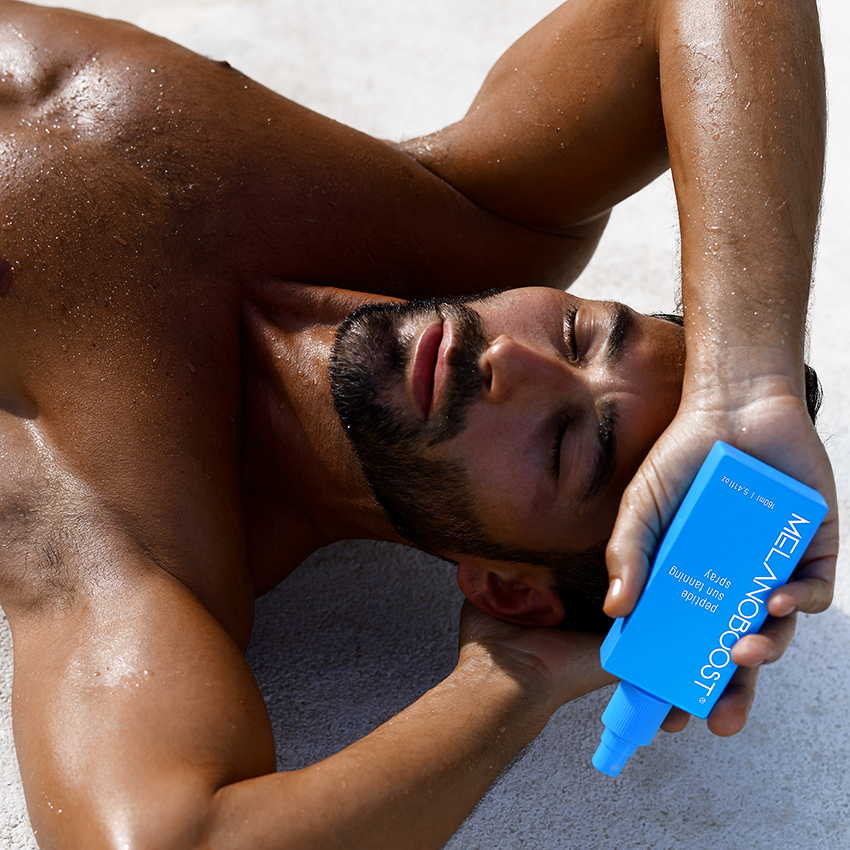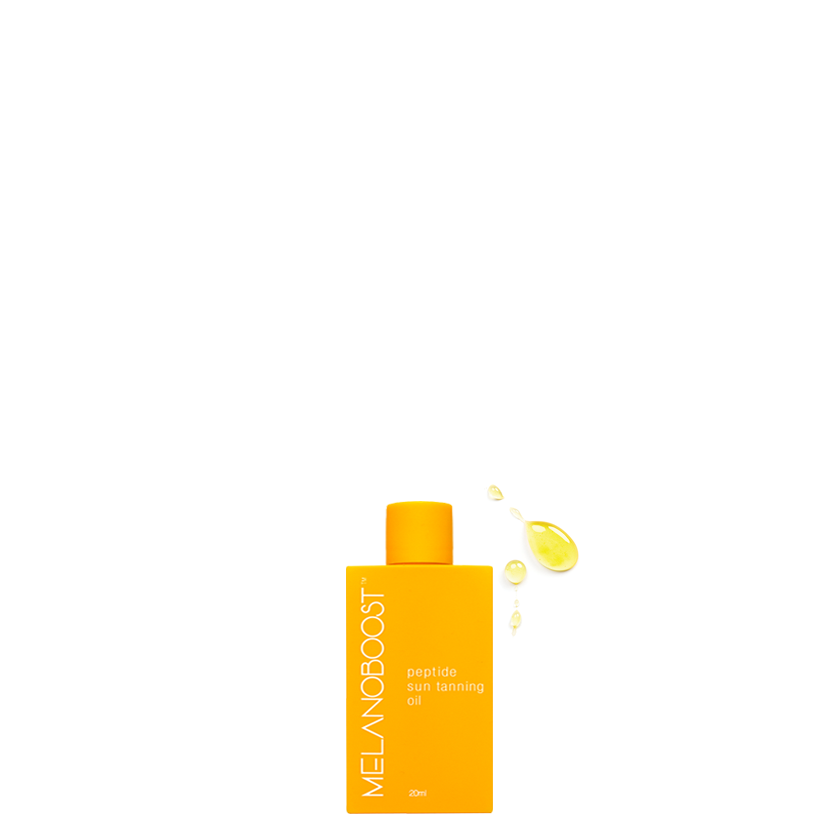 RESULTS + REVIEWS
Tan lovers around the globe are seeing faster, darker tanning results with minimal sun exposure thanks to Melanoboost's revolutionary Peptide technology.
How does the Peptide work?

How does the Spray feel?

Who should use Peptide Spray?

Our Summer Luxe Scent.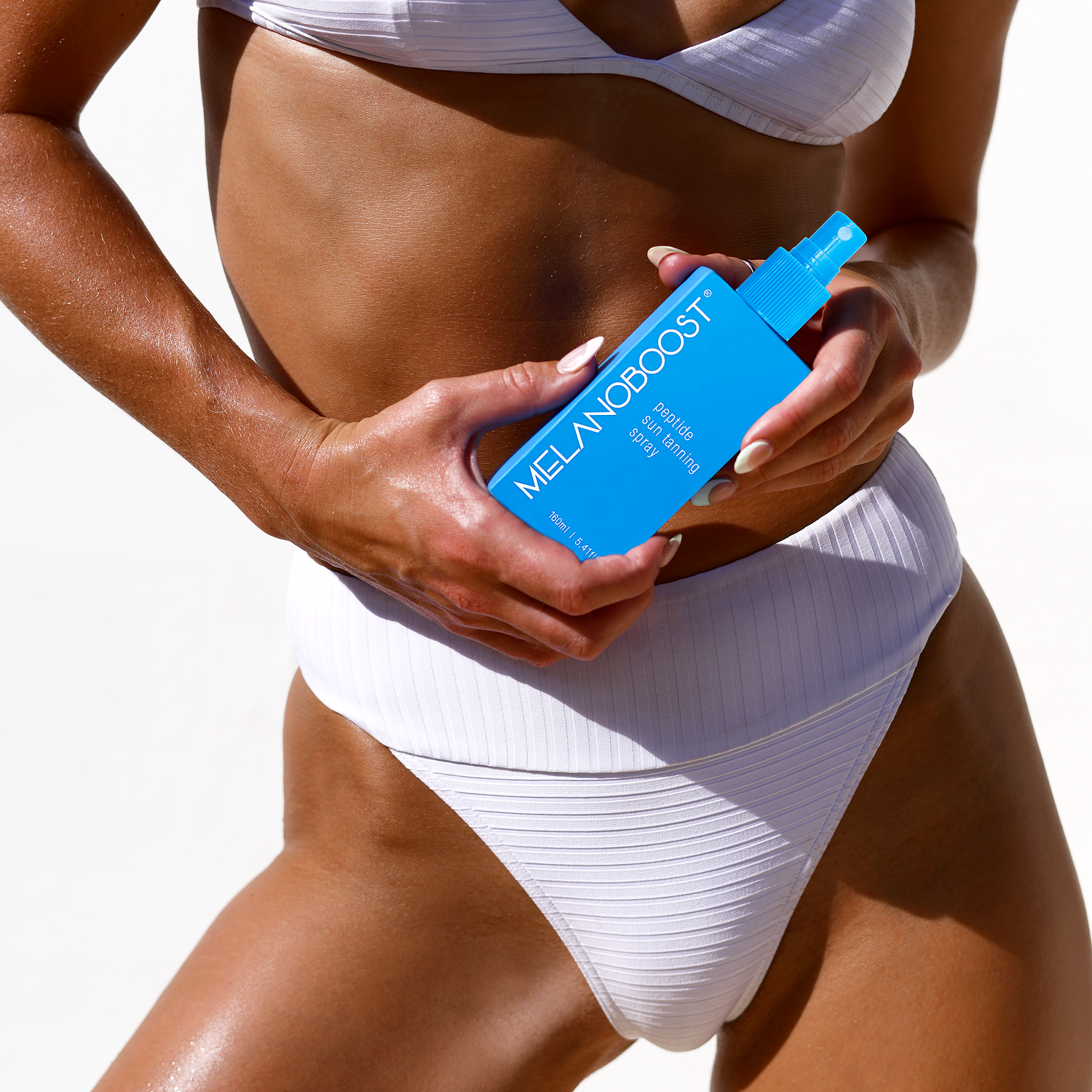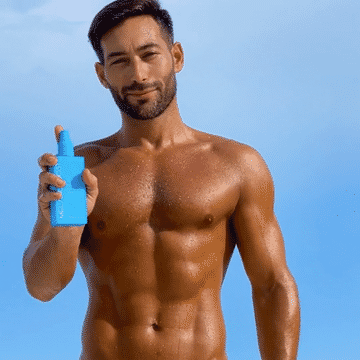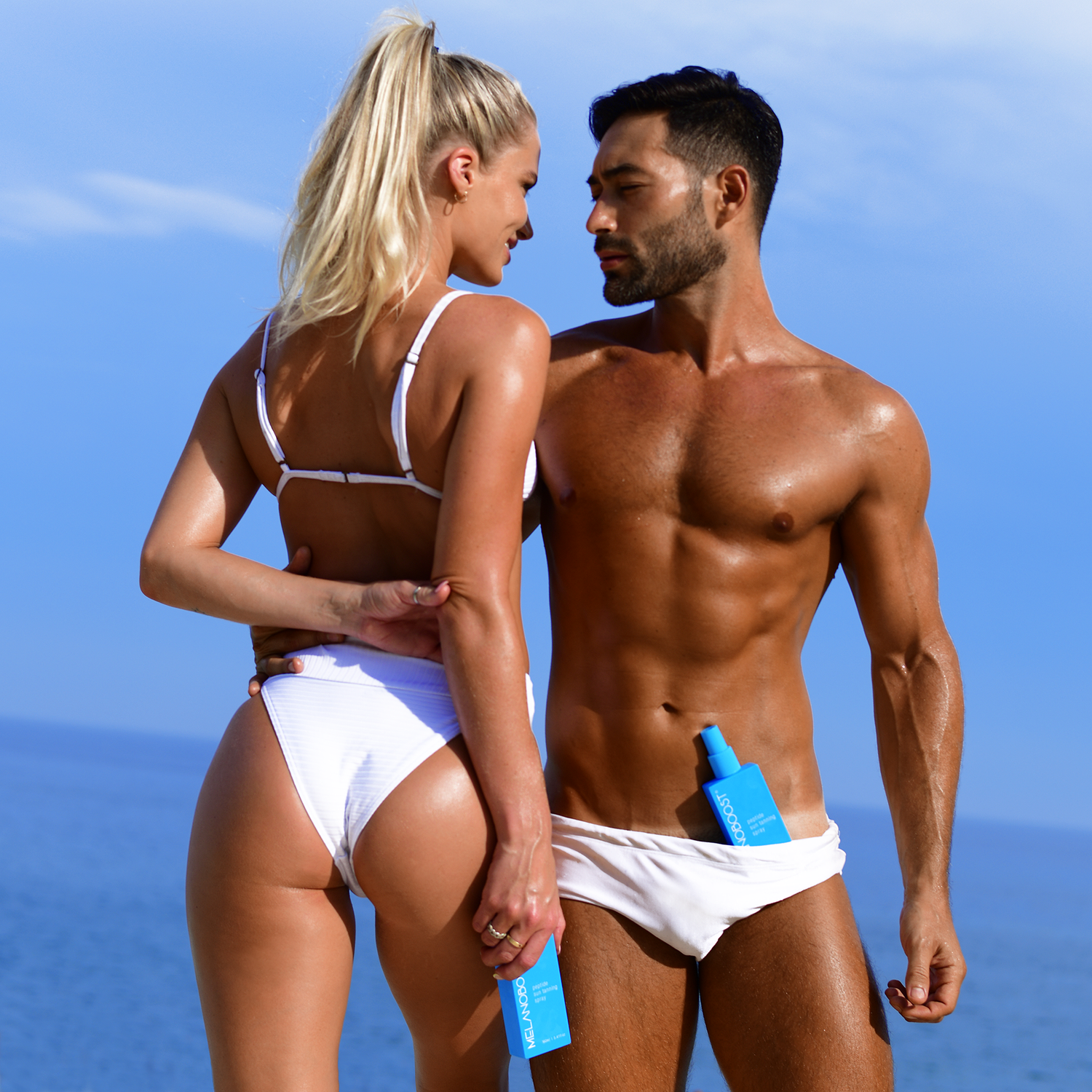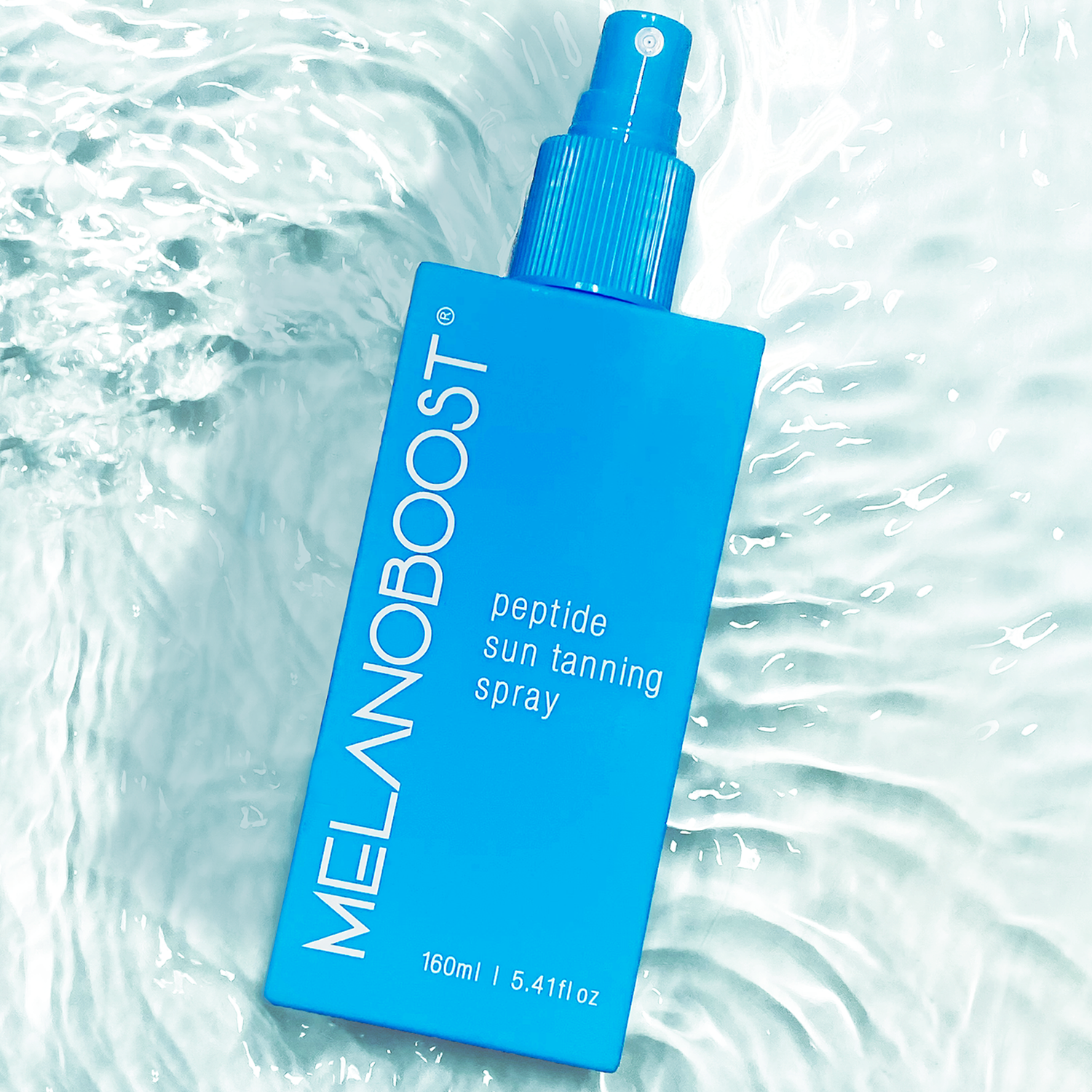 RECOMMENDED FOR YOU
UPGRADE & GET 3 FREE 20ML OILS

Upgrade to a mixed Tan Accelerator Trio bundle to fully customise your tanning experience and receive 3 FREE 20ml Travel Buddy oils valued at $30.00

SHOP NOW

GIFT A FRIEND

Who knew you could gift a tan! Melanoboost Sun Tan Accelerators are at the top of the list for unique gifting. Spoil your bestie today!

SHOP NOW

BUY 4 GET 1 FREE 160ML

The Limited Edition Summer Pack is the ultimate bundle containing all five 160ml Melanoboost products. Pay for four products and get your fifth valued at $54.95 FREE.

SHOP NOW